Interview with Erin Crocker
Think you've seen Erin on TV? You betcha!
Erin got her start as a contestant on Netflix's hot new baking show, "NailedIt!". Following that experience, she can be found on a variety of Investigate Discovery shows including "Unmasked" and "Dead of Night". Erin's also worked on a couple of independent films due out next year.
When She Walked Away
As a survivor of domestic violence, Erin strives to give back to the community that offered her the support and encouragement to not only leave her situation but to find her voice. This is what led to the founding of When She Walked Away. A small, but steadily growing community that places direct emphasis on providing encouragement, information, and support to women and children who have experienced or are experiencing domestic violence.
MWS: Hey, Erin! How has your day been so far?
EC: Better than a sun-fried rodent on the side of the interstate.
MWS: Lol! I imagine so! Compared to that my day has been fantastic! First, let's talk about your impressive background. You write, you act: you sing, and you're quite good at them all. Is there anything you don't do that you wish you could?
EC: Well, I've always wanted to be a rattlesnake. I haven't perfected shapeshifting yet.
MWS: Well, that sucks. I heard shape-shifting is all the rage in some realms. Rattlesnake would come in handy...like when going to the bank. What was your favorite or the most fun acting job you've had?
EC: Yeah, all the cool kids are doing it, the shapeshifting, I mean. There's been quite a few. I'm not sure I can pick one that's more fun than the other, though. Each experience is unique; I'm working with different actors, directors, and we just have a lot of fun.
MWS: Is being on set relaxing or stressful?
EC: It can be both. I've filmed until three or three-thirty in the morning. We're tired, been there all day, everyone wants to go home. That can get stressful at times. Mostly, I find it relaxing and rewarding. If it wasn't, I wouldn't do it.
MWS: It sounds like it would be an experience everyone should have at least once. I am familiar with most of your work and I plan on getting to it in a second, but tell me what you are working on now?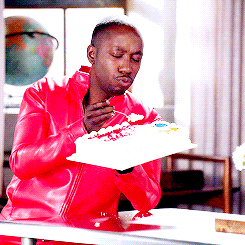 EC: Finishing this piece of vanilla cake with whipped icing and confetti. I've put in quite a lot of effort eating it over the past couple days, so I'm looking forward to completing it tonight.
MWS: Vanilla cake with whipped icing and confetti! Yum! Unless...it is a code for a top secret project. I won't tell if you wanna share... . Let's talk about Cocky Tales a moment. It was a limited edition and isn't available now. Do you think you would re-release it again one day?
EC: No secrets. Just cake. As far as "Cocky Tales", it was a fun project. I learned a lot from it, and I was lucky to have compiled a manuscript with some extremely capable and talented artists, but I don't make it a practice to look at the past. There won't be a re-release.
MWS: Glad I have a copy already! Collectable! Did you have a favorite story in it or can you say?
EC: